Brief history
Open Joint-Stock Company "Galanteya" — a popular Belarusian trade mark gained the trust of customers not only from our country but outside Belarus.
The foundation day is November 28, 1924. The leather goods factory "Voshod" with more than 300 employees was established in 1929.
1935 — the factory was named after V. V. Kuibyshev.
1976 — the factory was awarded with "The Sign of Honor".
January, 1990 - The factory was reorganised into the leased enterprise "Minsk leather goods factory".
1994 — The Open Joint-Stock Company "Galanteya" was established on the basic of the existing enterprise.
TM Galanteya
is interesting because of its diversity (it covers all kinds of leather goods).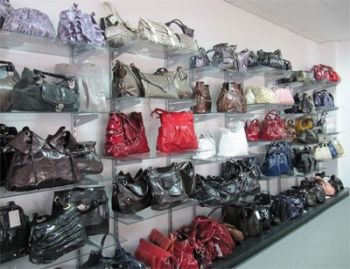 Annually our company presents two collections: "Spring — Summer" and "Autumn — Winter". All the ideas and working material for these collections are generated in advance. Popular world trends in clothing, footwear, accessories are thoroughly studied. The market of leather goods and our customers' habits and wishes are analyzed. The raw and fitting are thoroughly selected. The models are evaluated by our specialists and trade workers before their mass production.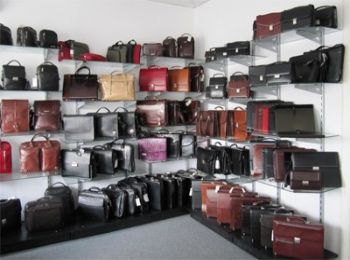 The quality of GALANTEYA products is guaranteed. There is a total quality control at all stages of manufacturing process. This control begins from checking raw and components and ends with checking finished products. Using of modern technologies and innovative equipment helps the company to provide a high quality level. Therefore GALANTEYA got the highest awards for the quality — The Premium of the Republic of Belarus for achievements in quality, diplomas of many international exhibitions.
Every day the Company produces approximately 3500 items. Annually the product range is updated by more than 80%.
Constant research of leather goods market allowed the Company to identify consumers' need for exclusive special products in time. As a result, two new brands
dolcezza
and
D'ACCORDO
were created in 2009. This is a range of bags for men and women which show up their nobility and elegant charm of Italian leather. These brands were created especially for those who appreciate their uniqueness and individuality. Nowadays this exclusive bag line is developed successfully and has already found the response from consumers.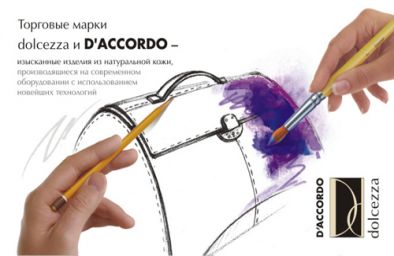 The development of company's brand stores says about the demand for GALANTEYA, Dolcezza and D'ACCORDO products. Seven stores were opened in Minsk, Soligorsk, Bobruisk, Mogilev, Grodno in 2009. At present, the Company has 16 brand stores and the representation:
1 branch office is in the Republic of Belarus
1 distributor is in Moscow, Russia
several dealers are in Moscow, St. Petersburg, Rostov-on-Don, Chelyabinsk, Kishinev.
Nowadays one of the company's aims is to improve the existing network of brand stores.