Achievements
The greatest achievement is the customers' recognition of our products, adherence to the brand GALANTEYA.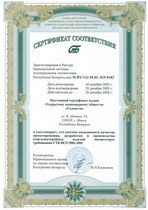 It was preceded by the great work in the following directions:
improvement of the design and functionality of products, learning world fashion trends

2002 — Quality Management System ISO 9001 version 2001

permanent quality improvement (Quality Management System ISO 9001 version 2009), extensive experience in the manufacture of leather goods (more than 80 years)

service improvement at the points of sale (professional consultations, assistance in selection; training shop assistants).
The products of the Open Joint-Stock Company "Galanteya" have numerous prizes:
diplomas of Republic and international exhibitions

gratitude for the contribution to the industry development

certificates for high-quality products.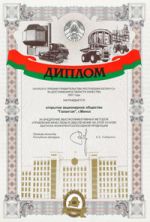 The Open Joint-Stock Company is a prizewinner of:
the Premium of the Republic of Belarus for achievements in quality in 2001, 2004, 2007

the Contest "Best goods of Belarus on the Russian market 2002".
Since 1999 Open Joint-Stock Company "Galanteya" has been a constant winner of the national competition between the industrial associations and enterprises of the Concern "Bellegprom" for the title "The Best Enterprise of the Branch".
Also look through: